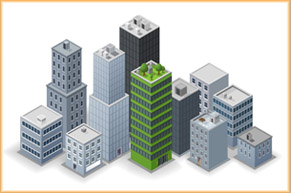 Advantages
Solutions for the environment
"Qualify for LEED certification easier than with traditional construction"
Reduced carbon footprint inherent throughout the complete process.
Reduced energy consumption during construction, by up to 60%
Better use of materials in factory setting – means much less debris on the worksite and results in lower waste management cost.
Fewer trucks delivering materials to work-site.
Less cleanup of debris (some of which may be toxic) on the worksite.
Elimination of many thermal bridges including balconies.
Insulation factor can be as high as R38 – more efficient buildings require less power to operate HVAC systems.